Merry Christmas! In a collaboration with
Between
, they've written an article on
Clozette
, about my gift of love this Christmas! Read the full article below, original article taken directly from
HERE
.
Dazzling lights hung up in the cities, green and red packaging occupying the shelves in the shops, decorated pine trees appearing at every corner and chirpy music playing everywhere… It's the time of the year again when people gather with their beloved families and friends in celebration of this joyous season; and also the time when people comb through malls to prepare for their annual gift exchanges. It seems like everyone in town is getting ready for Christmas, and so are Kaiting Cheng and her other half, Ken Seah.
The charming Singaporean lifestyle influencer, who just recently became the representative of Singapore for the face of Sony Xperia, is a fan of Christmas like most of us. The festive season of love and giving, is in fact her and her partner's favourite occasion. To them, as Christmas falls in December, it also presents the perfect opportunity for them to reflect on the wonderful year that they've spent together.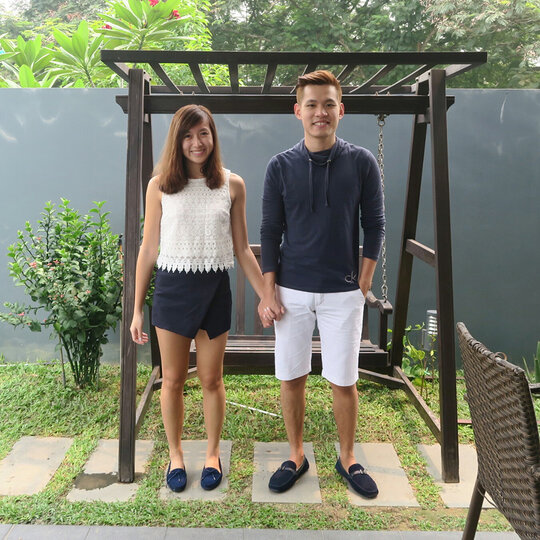 As a pair who enjoys doing a lot of activities together, Kaiting and Ken usually spend their free time watching movies, café-hopping, exploring Instagram-worthy places and sometimes attending blogger and media events together. Although the bubbly and cheerful couple just started dating each other last year, they already knew each other since they were in primary school - and Ken even attended Kaiting's 11th birthday party before (How cute!). Ten years down the road, they crossed paths again while walking around in town, with a little help from their families who somehow spotted each other. From there, cupid worked its magic and now here they are with each other, ready to embrace their second Christmas together.
How do you guys usually celebrate Christmas?
Gathering at my close friend's house, strumming the guitar, singing carols and dancing! (We even did a spontaneous cover of Taylor Swift's Blank Space last Christmas for fun!) Ken and I would also find time to walk along the streets in town and soak up the vibes of the festive season, spending a simple night just chatting with each other.
Do you guys have the habit of exchanging gifts?
Yes! For me, I'm more of a "quality-time" person than a "presents" person, but Ken loves presents (even though he always tells me there's not a need as he feels that I'm his biggest present from God!). Nonetheless, I guess we still share the habit of exchanging gifts for Christmas, and every other special occasion such as Valentine's Day and each other's birthday!
Is it okay if your partner didn't give you a gift?
Of course, it's more than alright. We are each other's biggest gifts and we really thank God and our lucky stars that we've found each other.
Something interesting – if each of you is given a budget of $10, what would you get for your partner?
We're both very practical, so I guess we would get each other useful things that we can use in our daily routine! An extra charging cable for phone or hair products would make a pretty decent choice.
Well, besides physical gifts, there's definitely something else that Kaiting appreciates of her partner Ken more than anything else.
If you have to choose only one trait of your partner as the best intangible gift you've received from him, what would you choose?

Honesty!
Why that trait?
Being very honest with each other made it easy for us to trust each other, and we all know how important trust is in a relationship. That's one reason that makes our relationship strong. So… honesty is definitely the best gift I've received from him :)
Share one event that made you feel that way!
I guess it was during the initial stage of our relationship when we were just getting to know each other better. He laid it all out on the table - his past, his flaws, and everything else - just being brutally honest with me. I was very impressed that he was able to do that. I knew then and there that I could be certain of him, if he was able to tell me everything at that point of time. I trust that he will never hide anything from me in the future.
In exchange, what is the one intangible gift you can give to him for the rest of your life?
Patience. Because it's something that Ken needs in his life (laughs)
He's a no-nonsense kind of person when it comes to serious business, and he gets impatient when people do not put in adequate effort. Also, when he loses his stuff (like his keys), he will get very annoyed. I find that me being patient will definitely help during certain situations!
It's not a trait that I'm very strong at, but it's something that I've grown to be good at, because I know how to better handle our situations that way. After everything is resolved, he will thank me and say that he's very grateful that I always know how to improve the situations and make him feel better. Patience creates unity, and that goes a long way!
Kaiting Cheng is a Singaporean lifestyle blogger, who blogs and shares with her readers anything to do with beauty, fasion, sports, food and even technology. Currently an undergraduate pursuing her degree in Sociology in Nanyang Technology University, Kaiting is also a passionate volleyball player for 10 years and counting. As a supporter of meaningful social initiatives, she was involved in projects such as Young NTUC's campaign for the awareness of low wage workers, where she became a hawker centre cleaner for a day.
Well-liked for her girl-next-door look, Kaiting recently championed the title of the Face of Sony Xperia in Singapore. Moving forward, she aims to continue blogging as her passion and also try venturing into the field of Public Relations or Real Estate Management after graduation. Her boyfriend, Ken Seah is currently working in the real estate industry.
--------------------------
Between
, the best relationship app for couples
Between is a private app for two people in a committed relationship. Store and share your photos, important dates, and chat only with each other.
Get your special space for two
HERE
.
xoxo, kaitinghearts