Oriental Hair Solutions
was created to help people with hair and scalp problems caused by a stressful lifestyle, environmental damages, genetic problems and harsh chemicals used in various hairdressing techniques.
I got my scalp checked out at Oriental Hair Solutions and they provided me with a treatment plan to help with my oil-clogged pores! Read on to find out more!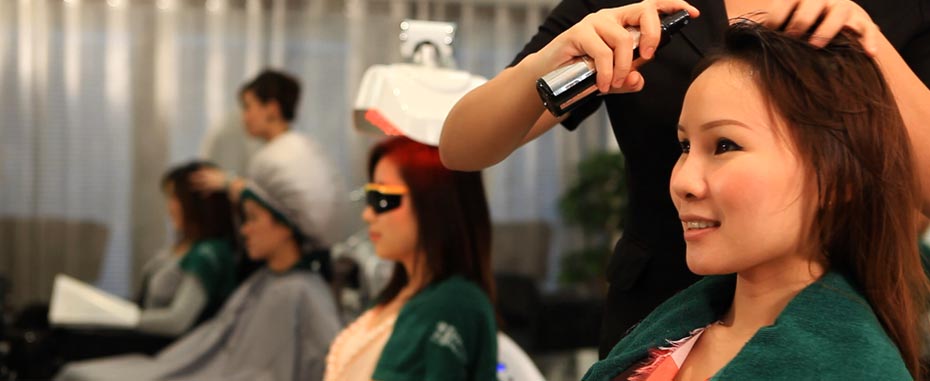 At Oriental Hair Solutions, they believe in "The Natural Solutions with Oriental Wisdom." In their treatments, more than 100 Natural Oriental Plant Herbs like Ginseng, Polygonum Multiflorum, Gentian are used, and are specifically concocted to cater to the needs of different individuals.
They offer natural, safe and highly effective hair and scalp solution with state-of-the-art technology and equipment and top of the range products to enhance effectiveness. Through thorough scalp and hair root analysis by our professional consultants, they are able to diagnose the cause of problems for every individual and personally monitor the treatment progress.
Reasons Why You Should Choose Oriental Hair Solutions
- Advance Oriental Herb Extraction Technology
- No Unpleasant Smell
- State-Of-The-Art Equipment
- Effective & Visible Results
Without a healthy scalp, your hair will either not grow or it won't grow to it's fullest potential. Without a healthy scalp you will have issues with hair growth and hair health. That's why having a healthy scalp is just as important (if not more so) as having healthy, flowing strands of hair.
I knew I had to do something about my oil-clogged pores else I wouldn't be able to grow healthy strands of hair! Besides that, having clogged pores meant that my hair strands won't be able to get enough nutrients and will grow out to be very brittle. Thankfully, Oriental Hair Solutions prepared their
3-STEPS TREATMENT APPROACH
for me!
Step 1. Analysis
Upon completion of the Hair Questionnaire and detailed analysis of my scalp with their Analysis Scanner, their well-trained professional consultants formulated a Treatment Programme according to their evaluation of my particular problems, taking into consideration of my health, scalp conditions, stress level, hormonal factors, and hereditary traits. They then educated me on the best approach to a successful Treatment Programme.
Once I have my individualised recommended Treatment Programme, my consultant personally prescribed the concoctions and treatment protocol most suitable for my conditions during each visit. For my oily scalp condition, a cleansing mask will be applied to rid my scalp of the excess oil and to clean up my pores.


The last step will be the monitoring and adjustments of the Treatment Programme. Each case is unique, hence different people react differently to each customized Treatment Programme. My scalp was scanned periodically and my consultant closely monitored and reviewed my progress. She modified the treatment protocol when necessary so that my scalp will be able to fully maximize its benefits.
Oriental Hair Solutions uses an exclusive range of top notch
Scalp and Hair Wellness products
that is manufactured locally by Herb De Orient, a Singapore homegrown brand. Sharing the same belief ("The Natural Solutions with Oriental Wisdom") with Oriental Hair Solutions, Herb De Orient's goal is to provide a natural, safe and highly effective hair and scalp care range of products that enhances one's lifestyle using state-of-the-art technology and advanced extraction techniques from the west.
Herb De Orient carefully selected more than 100 botanical herbs to be used in the hair and scalp care range of products. All herbs used go through stringent quality checks as well as strict safety specifications control. Each and every herb are scrutinized for mercury, lead, pesticides content and microorganism counts. Every single batch of herbs are certified by our chemists before they are used in all the Herb De Orient product ranges.
Each individual herb is are tested and studied very carefully to identify for any possibility of overdose, herbs contradictions, herbs synergies, herbs neutralization and for herbs that cause allergies as well as for prolonged use toxicity. Thus, the suitability and safety of all products have been tested and certified safe.
After 3 months of treatments with Oriental Hair Solutions, I was happy to see an improvement in my scalp condition! The entire treatment had no unpleasant smell at all and always leaves my scalp feeling so refreshing after. My scalp was cleaner and my pores are not oil-clogged, so the hair that grows out of my pores are thick and healthy. Cheers to healthy hair!
The service provided by the staff was excellent too, as they were all skilled professionals and very friendly. I look forward to every visit as it was always good to relax in a comfortable ambience and atmosphere. Free tidbits and drinks will be provided as well. Free wifi is also available and I always use the time to catch up with my emails while pampering my scalp. Definitely a place I would recommend to solve your hair issues!
Oriental Hair Soluions has 8 outlets in Singapore, all located conveniently! The one that I went to was the Ngee Ann City outlet. Head over
HERE
to check out where you can find an outlet. Don't miss out on their promotions
HERE
as well. Thank you
Oriental Hair Solutions
for providing the best solutions to my oil-clogged scalp problems!